Moultrie has brought us a trail camera that is a one of a kind. No other camera at this time has a panoramic photo feature.
Flaunting a 150-degree field of view, Moultrie PANORAMIC 150 is one of the best trail cameras on the market. Like many other trail cameras, Panoramic 150 works alongside its three Passive Infrared motion sensors, taking trail photography to a whole new level. Featuring a rotating lens, this camera seamlessly captures images instantly at each sensor. It also has the ability to capture every frame that would be missed by a standard trail camera.
With its sturdy design, it can endure rough condition in the woods. Below, we will take a look at the features that make Moultrie PANORAMIC 150 a solid trail natural vilitra 40 mg camera.
Moultrie PANORAMIC 150 Game Camera Features
It comes with a case patterned with Oak Treestand- one of the best tree-bark camouflages on the market. It blends well into a tree that it's mounted on, meaning that it will be hard for other hunters or wildlife to see it.
Like many game cameras, the Moultrie PANORAMIC 150 has a power input jack that allows you to connect a solar panel to it. This comes in handy if you masteron are hunting away from your residence.
The Moultrie PANORAMIC 150 excel in detection time, and it can detect movement that occurs 60 feet from the camera, which is 10ft better than most game cameras.
The most important feature is the wide detection angle of this camera. While most cameras have a 50-degree detection angle, the Moultrie PANORAMIC 150 is three times wider.
It has a recovery time of 6.2 seconds, which is longer than those of other trail cameras in its category. However, considering that it can capture three photos for every shot, the recovery time should not affect your chances of seeing multiple animals.
It has a trigger speed of 0.9 seconds, which is very impressive. Even if an animal is running past the camera, the Moultrie PANORAMIC 150 will be quick enough to capture it mid-frame.
Most cameras have a 50-degree field of view for Moultrie PANORAMIC 150; it triples this field of view to give you high-quality images. It uses one lens that snaps three side-by-side shots which are later stitched together to provide one ultra-wide, quality image.
This means that if several animals walk past your trail camera, it can capture all of them. Its wide field of view is similar to the field of vision of human eyes, thereby adding an air of realism to your panoramic photos.
Its impressive infrared flash range of 100 feet is enough to illumine any animal it detects. With a resolution of eight megapixels, this camera gives you an ability to zoom in images without losing a lot of details. Although some trail cameras capture photos at 10MP, 8MP is sufficient for most hunting needs. It also takes videos in 720p, which is standard for trail cameras.
Both the panoramic effect and crisp makes shots from Moultrie PANORAMIC 150 fantastic. It is important to point out that panoramic mode doesn't apply to videos; videos are taken with a 50-degree field of vision.
Besides its panoramic mode, this camera features a multi-shot mode that captures 2-3 pictures in rapid succession after every trigger. This mode works when the camera is set in standard non-panoramic mode. This allows it to take multiple shots without factoring in the recovery times.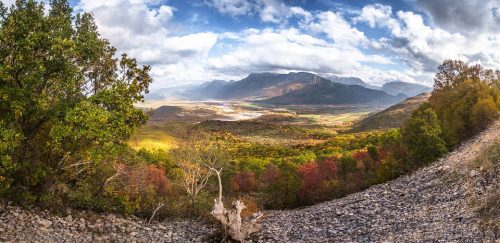 It also features a time-lapse mode, that allows you to set its detection circuit to take one picture at a given time interval. This will help you know precisely when animals are on the move. Because time-lapse mode doesn't depend on camera's detection time, pictures taken sometimes show animals in the distance that the camera wouldn't have detected.
It also comes with a one-year warranty, which is standard in the trail camera industry.
The Pros of Moultrie PANORAMIC 150
It has an innovative design using three sensors and a rotating lens
It gives you 3X the detection area compared to standard trail cameras
Has an outstanding 8MP image quality
Excellent flash ranges and detection time
The Cons
From the trail camera reviews posted by customers, we learned that the panorama photos are not always stitched together into a seamless image due to rotating camera lens
It requires six C cell batteries, which is quite different as many trail cameras use AA batteries
The Bottom Line
Moultrie is one of the best brands in the trail camera industry and their latest model, PANORAMIC 150, is a perfect example of why it has continued to be a top brand. Its breath-taking panoramic technology may change the way trail cameras are made. The best of all, it is exceptionally affordable, making it a great buy for amateurs and professionals alike.