Whether you use an apple or android product, there are many apps available to help you hunt for deer. Following is a list of the most popular and practical deer hunting apps currently available. Why not let technology help you on your quest through the forest?
Deer Calls and Tactics (IOS and Android)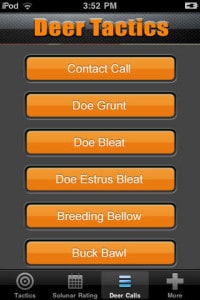 This paid app, available for apple and android, is one of the most comprehensive deer call apps available on the market. The app can simulate 12 of the most effective deer calls including the Doe Grunt, Doe Bleat, Breeding Bellow, Buck Grunt, Buck Bawl and more.
The newest version of the app includes a lot more in-depth information on rutting including rut forecasts, rut phase description and dates and specialized tips for each phase of the rut. The rut, which is the mating season for deer and other mammals, is an excellent time for finding deer and this app will help you develop some techniques for simulating scent, vocalizations and the best times for doing so.
Hunt Predictor (IOS and Android)
The Hunt Predictor app uses an advanced formula for delivering forecasts on where the best hunting times and locations are for various animals, including deer.
The Hunt predictor app has many useful features including a 5 day window of predictions, an hourly weather forecaster and a GPS based platform. You can even plot areas on the GPS where you have achieved success or where you have set up effective blinds. The Hunt Predictor, which is a free app, uses a logarithm that takes into account moon phase, barometric pressure, wind, sunrise/sunset and other factors to create its accurate predictions.
Primos Hunting Calls (IOS and Android)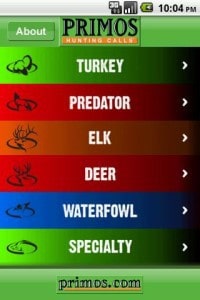 This is another hunting calls app with claims to be the top-selling one on the market. The Primos Hunting App was created by the group behind Primos Hunting which has a TV show, a website, sells specialized videos and also sells a variety of hunting accessories. The Primos Hunting Calls app is available for a small fee from apple and for android. It has some tried and true calls that it claims are highly effective. They have given some of their more popular calls names such as The Original Can, Buck Roar, Little Big Roar, The Lil Can and The Long Can.
Geo Pak Hunt (IOS and Android)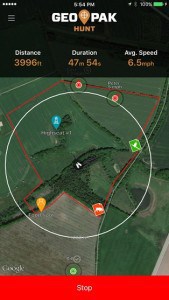 This GPS based app allows you to plot and prepare your hunting blinds and spots in advance or track where you have put them previously. The app allows you to set up hunting groups, and if any other members of that group have the app, you can see each other on the GPS overlay and know where all the members of the group are at all times. This ensures that you don't shoot in the direction of the others and allows you all to cover more ground in the hunt for game. You can keep notes and track points of interest. The app includes other valuable features such as an option to categorize and maintain your shooting equipment and ammunition. You can upgrade to the paid edition and get an expanded range finder, more of, and more detailed locations and greater interactive options with members of your hunting groups.
Hunting Light and Blood Tracker (IOS and Android)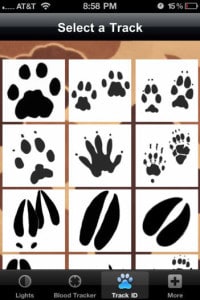 This paid app features a variety of different colored flashlight options for tracking the blood of wounded prey. The different colors of flashlight provide enhancement in different conditions such as red light which is not easily detectable by game, green light which is effective in low light environments and, of course, the blood tracker which enhances any red color while dulling surrounding green color from the natural environment. The HLBT app also has useful pictures of different hoof and paw prints to help you identify and track animals in your environment or see what else is around you.
HUNT app: Public/Private Land Ownership GPS Map (IOS and Android)
HUNT app enhances the GPS function of your phone by creating a full multi-layer mapping system that includes information and detailed location data for public and private lands. The app uses aerial imagery and topographical mapping to create detailed real time maps so you can create hunting tracks, measure distances, identify property boundaries, and track the course of over 400,000 miles of trails.
Isolunar Hunting and Fishing Times (IOS)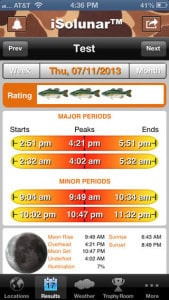 The premier app for planning the best times to hunt for any game. Based on the solunar theories that deer feed, hunt and mate based on moon position and lunar phase, the Isolunar app gives you peak hunting times for deer anywhere in the world. The app is available free (for 7 day trial with an auto-renewable subscription service) or paid for an upgraded version with no subscription fees).
Laid in simple table format, you choose the type of game (or fish) you are looking for and location, and the app will make you aware of best times to hunt there. You can use the forecast option to plan for future trips or research the best times to go. You can also use the trophy room to highlight your kills and when and where they occurred.
The app is loaded with lots of features including hourly weather and up to 10 day forecasting, sunrise and sunset times, auto or manual GPS, feeding and activity periods, moon phases, and settings to categorize all options by day, week or month.
SAS Survival Guide (IOS and Android)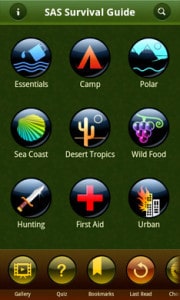 The SAS Survival Guide app is based on the bestselling book of the same name that has been available for over 20 years. Though not specifically for deer hunting, this highly informative and entertaining app is packed with information on how to survive in the outdoors in every environment, with any equipment, in all times of the year. The basic free version is the lite version but you can pay for the upgraded version which provides you with a lot more options including the full text of the book version optimized for your app version. Other significant features of the SAS Survival Guide lite version includes photos and information regarding analyzing the night sky, a survival checklist, videos and lots of basic survival information such as building a fire.
The full paid edition includes the whole book make available in tablet or phone enhanced versions, more videos about more topics and an extreme survival section that deals with polar, desert, tropical and sea environments. There is also detailed first aid information and easily researched photos and information regarding animals and snakes, paw prints and animal tracks, edible plants, rope knots and much more.
Accuweather (IOS and Android)
Why trust any other app when you can download the most popular and trusted weather app currently available? Accuweather provides forecasts in over 100 languages and in almost every region of the earth. The app includes current and hourly forecasts for all its coverage areas and also provides short and long term forecasts. A special feature of Accuweather is its MinuteCast, a minute by minute forecast of precipitation that can be isolated to your street! The MinuteCast option is available in select country including the United States, Canada, France, Spain, Germany, the UK, Japan, the Netherlands and more. Accuweather is truly the final word in weather forecasting.
When engaging in one the world's most popular pastimes, and historically one of the most important, hunting, why not take advantage of what technology has to offer? Smart phone technology and cell tower reach is so prevalent now that you can carry a whole bundle of hunting help in your pocket to help enhance and cultivate your hunting experience. The apps listed here represent the most up-to-date, relevant and popular deer hunter available. Use them.