Hunting is an exhilarating, thrilling, tactical and useful sport, and conscientious hunters always remain aware and cautious about its risks. Below, we've broken the most important hunting safety tips into four categories to keep you safe year-round.
Legal Safety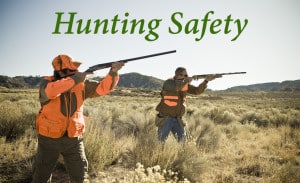 Hunting in the United States isn't simply a matter of grabbing a gun and heading out to the woods. Hunting laws vary from state to state, and sometimes even at the county and city levels. Get answers to the following questions before planning a hunt:
What are the licensing requirements for the game I intend to hunt for this particular area?
Are there specific rules regarding the time of day I can hunt?
When does the hunting season for this type of animal begin and end?
Which types of weapons are allowed, and I am legally permitted to possess and use such weaponry?
How many kills am I allowed per day, season, etc.?
Am I allowed to hunt males, females, or both?
Is there an age requirement for bringing minors onto the hunting grounds?
Am I legally required to wear specific types of clothing or carry specific information with me during the hunt?
Weapon Safety
Thousands of people are accidentally injured in hunting accidents each year. Hunters are typically very responsible because they recognize and respect the power that their weapons have. However, be responsible and take the following precautions before hunting:
Become familiar with the use, loading and unloading method, and maintenance of your gun. Attend a shooting school and go to the firing range as often as possible.
Always wear protective gear when hunting. This includes, but is not limited to, eye protection and ear plugs.
Stay up-to-date on gun laws in the area in which you plan to hunt. You might be licensed to carry a firearm in your state, but crossing the border with a specific type of weapon could land you in jail, even if the gun isn't loaded and is locked in the bed or trunk of your automobile.
Guns aren't the only hunting weapons that can be hazardous in the wrong hands. Crossbows and knives can injure or kill, too, so be proficient in the use of any and all weapons you have on hand.
Make sure everyone in your hunting party agrees to follow each of the previous four hunting tips for weapon safety.
Protecting Yourself & Other Hunters
Hunting safety doesn't just mean you follow the minimum safety requirements established by law. It also means you take whatever common-sense precautions you can to protect yourself and other hunters. Here are a few tips to keep you and others safer the next time you go hunting:
Advise other hunters about where you plan to set up. Doing so is beneficial because it isn't only common sense safety-wise; it will also prevent other hunters from making noise in the area where you're trying to track and hunt.
Many states and private hunting clubs require hunters to wear a certain amount of hunter orange. Even if you aren't required to do so by law, it isn't a bad idea, especially when hunting fast-moving game (think waterfowl).
Keep an emergency medical kit and a cell phone on you at all times because anything could happen. Hunting accidents, snakebites, broken bones and twisted ankles are all possibilities for which you need to be prepared.
Be the Predator, Not the Prey
There's a famous scene in the original Jurassic Park movie where the park warden thinks he is hunting a raptor. Just before he takes his shot, however, he realizes that his target was acting as a distraction while another raptor snuck up on him. While this is an extreme example, it's a reminder that each time we go hunting, we are stepping into a world where we aren't always highest on the food chain.
Know what animals are present in the area in which you plan to hunt. Are there bears in the area? What about mountain lions? Coyotes, wolves and wild boars can be extremely dangerous to humans, especially if they feel threatened or provoked. You also need to be aware of poisonous snakes, spiders, ticks, ants, and mosquitoes. Any one of these creatures can ruin a hunt and cause extreme displeasure, or even death.
Conclusion
Due to the combination of weapons, nature and wild animals, there will always be an element of danger when it comes to hunting. By following the aforementioned hunting safety tips and using common sense, however, you can have a good time and gain peace of mind by knowing that you're doing everything within your power to protect yourself and everyone around you.